On Air Now: Around the wards of the William Harvey Hospital on Channel 1 and across Ashford on 107.1FM | Listen
Now Playing: Ashford's widest variety of music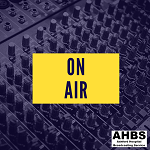 The Ashford Hospital Broadcasting Service
---
AHBS has been broadcasting a hospital radio service to the patients and staff of Ashford's hospitals for nearly 50 years.
We are proud to provide an Ashford radio service, broadcasting a mixture of music, information and entertainment 24 hours a day to the William Harvey Hospital.
We also broadcast our daily request show across Ashford on 107.1fm. You can also listen online via the TuneIn app on your smartphones.
We are the only radio station in Ashford run by volunteers. In fact, our presenters pay to be on air. As a registered charity the Ashford Hospital Broadcasting Service relies on donations, grants and fundraising to keep operating.
There are many ways to support us, including free and easy ways that don't cost a penny, such as using the Everyclick search engine which donates money to AHBS every time you use it. You could also take a moment to try our webshop by clicking the link below. It won't cost you any more, in fact you might get a great deal and you'll be earning money for us at the same time.
Around the wards, around the clock serving Ashford's hospitals since 1971
Help raise money for AHBS through Everyclick
---
Ashford News
---
Contact the Ashford Hospital Broadcasting Service
You can contact shows that are on air:
Phone: 01233 616226

Text: 07577 331071

Email: studio@ahbs.org.uk
Or to contact the committee, you can email info@ahbs.org.uk
Last modified: 05 May 2021 at 11:11