Select a news story to read;
Town Centre CCTV cameras to be upgraded
16th September 2018 7:15PM
Do the CCTV cameras in Ashford and Tenterden public spaces make you feel safe in the area? The cameras are to be updated to help boost confidence in community...
Could Someone in Ashford Win National Health Award?
16th September 2018 8:30AM
Do you know someone in Ashford that you could nominate to be a winner in the Our Health Heroes awards this year? A mother whose son receives care from...
New approach for roadworks in Kent
14th September 2018 1:00PM
Fed up with all the roadworks across #Ashford? Drivers could be in luck as Highways England has launched an innovative approach to planning and carrying...
Warning following two grass fires on M20
26th July 2018 12:30PM
Following 2 fires on grass verges on the M20 in the past 10 days, Highways England is warning drivers of the dangers of throwing rubbish from their vehicles...
Final chance to have your say on plans to improve Operation Stack
21st July 2018 8:00AM
Have you had your say? This weekend is your final chance to have your say on potential improvements for Op Stack by Highways England to manage freight...
Celebrate 70 years of the NHS in Ashford
4th July 2018 5:25PM
NHS Ashford Clinical Commissioning Group (CCG) is hosting a tea party to celebrate 70 years of one of the country's most beloved institutions. People...
Don't use the hard shoulder as a naughty step!
25th May 2018 7:00AM
It's a familiar scene for most parents driving on a motorway – children misbehaving. But the answer is not to do as one set of parents did and use...
Witnesses sought to sexual assaults in Ashford
19th May 2018 11:50AM
Kent Police is appealing for information after two women were reportedly assaulted in Ashford. It is alleged that a man inappropriately touched a woman...
New Operation Stack plans to keep Kent moving
18th May 2018 9:45AM
The Department for Transport has announced plans to improve overnight lorry parking and to ease traffic in the event of cross-Channel disruption. The...
Traffic officer Siobhan driving home message on how to avoid breakdowns
16th May 2018 7:30PM
Planning your bank holiday getaway? Have you factored in checking your vehicle? Sounds obvious but over 20 people a day run out of fuel on their journeys! Highways...
The Mason Mile is coming to Ashford
15th May 2018 12:50PM
Can you run a mile in 10 minutes? Want to earn money while you exercise this weekend? Then the Mason Mile might be just the thing for you. Young people...
Water meters coming to Tenterden
4th May 2018 7:30PM
What do you think of plans for all residents in Tenterden to have water meters installed by South East Water? The company has announced the plans in a...
Ashford town centre praised
4th May 2018 4:00PM
What do you think of Ashford town centre? High Street Minister Jake Berry MP has praised Ashford's innovative approach to boosting the town centre and...
Get your load home in one piece - tie it down properly, says Highways England
4th May 2018 7:30AM
What do 40 beds, 96 chairs, 49 cushions and 163 mattresses have in common? They all fell off vehicles and onto England's motorways, where they were...
Appeal for missing teenager
28th February 2018 12:40PM
Kent Police is appealing for information into the whereabouts of a 16-year-old boy reported missing from Ashford. Brandon Chalcroft was last seen on...
New wheelchair-user friendly bungalow in South Ashford
25th February 2018 11:00AM
A bespoke wheelchair-user friendly bungalow, constructed by Ashford Borough Council and contractors DCB, was proudly shown off to its new residents Mr...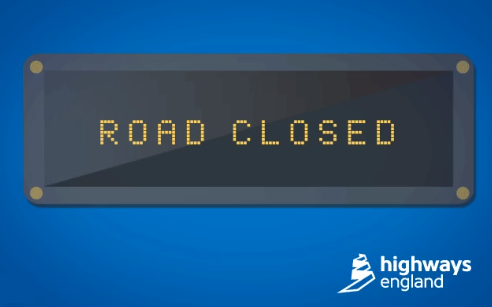 Londonbound M20 closed between junctions 10 and 9
21st February 2018 7:45AM
For those just waking up and haven't already heard, Highways England is reminding drivers that the M20 remains closed Londonbound between junctions 10...
ASDA customers supporting the Ashford Hospital Broadcasting Service
9th February 2018 7:00PM
The hospital radio service for the William Harvey Hospital has a welcome boost following a £200 donation from ASDA on Tuesday (6th February). AHBS...
New book stop in Singleton
7th February 2018 4:00PM
Have you spotted the new book stop on Singleton hill? It's the sixth to be installed in Ashford and allows you to pickup a book in exchange for one you've...
BMW owners in Ashford urged to be vigilant
6th February 2018 4:30PM
BMW owners in Ashford are being urged by Kent Police to be vigilant after four thefts from cars were reported in the Godinton Park area of Ashford in the...
Warning of heavy traffic on M20
25th January 2018 4:45PM
Highways England has issued a warning to drivers to expect delays on the M20 due to industrial action in Calais. The port of Calais is closed due to...
Blue Badge reforms could include hidden disabilities
21st January 2018 10:30AM
What do you think about radical plans to shake up the blue badge scheme under proposals by the Department for Transport to include hidden disabilities? Transport...
Witness appeal after serious collision on Singleton Hill Ashford
13th January 2018 3:50PM
Kent Police is appealing for witnesses to a serious injury collision in Ashford. Kent Police says it received a call at around 9.15am on Saturday 13th...
Santa backs Highways Englandís call to motorists to check their vehicles this Christmas
18th December 2017 7:15PM
With a week to go before Christmas, Highways England has called on the main man to help remind drivers to check their vehicles before travelling this festive...
Delay to Operation Stack alternatives
15th November 2017 2:45PM
The government has announced today a delay in providing an alternative to Operation Stack, which were originally due to be in place this year. The original...
Witnesses appeal following M20 fatal collision
15th November 2017 10:15AM
Can you help Kent Police? Did you witness the collision on the M20 yesterday between Ashford and Folkestone? Officers investigating a fatal road traffic...
Distraction burglary reported in Ashford
9th October 2017 11:30AM
Kent Police is investigating a report of a distraction burglary in Ashford in which money was stolen from an elderly woman's purse. The offender called...
Witness appeal after attempted assault in Ashford High Street
6th August 2017 4:30PM
Police officers investigating a report of an attempted assault in Ashford are appealing for witnesses to come forward. It was reported that between...
Efit issued following assault in Ashford
29th July 2017 4:15PM
Police officers investigating a report of an assault in Ashford have released a computer-generated image of a man they would like to identify. It was...
Chilmington Green community consultation event
19th July 2017 9:45AM
How do you think Ashford Borough Council can engage with Ashford residents about Chilmington Green? A public consultation is taking place this afternoon...
Police appeal for witnesses after 3 hurt in Ashford collision
19th June 2017 4:15PM
Kent Police is appealing for witnesses after a three vehicle collision in Tenterden Road in Ashford at 11.45am on Wednesday 14th June. The incident...
Man dies in Ashford fire
19th June 2017 9:15AM
Kent's emergency services were called to a fire in a flat on Charing Hill, Charing on Saturday afternoon (17th June). A man in his 90s was rescued from...
Cyclist robbed by two men in Ashford
12th June 2017 12:15PM
Kent Police is appealing for witnesses after a cyclist was reportedly robbed by two men in Ashford. The incident happened between 6.35pm and 6.50pm...
Help police trace thief targeting Ashford charity boxes
9th June 2017 4:15PM
Kent Police officers investigating the theft of charity boxes in the high street have released a CCTV image. The first burglary took place at Timpson...
Full general election and council election results
9th June 2017 12:10PM
The results of the General Election and Ashford Borough Council by-elections. Damian Green returns to Westminster as the Conservative MP for Ashford....
Victim of Kingsnorth collision is named
8th June 2017 9:15AM
The cyclist who died following a collision on the A2070 at Kingsnorth near Ashford has been named. Keen traveller and cyclist, John Durey, 69 from Lenham...
Polling stations open across the borough for General Election 2017
8th June 2017 7:00AM
Poling stations across the borough have opened for the 2017 snap General Election. Polling stations are open from 7am to 10pm. Candidates standing...
Police appeal for witnesses to collision on A2070 Kingsnorth
6th June 2017 10:15AM
Kent Police is appealing for witnesses to a serious injury collision on the A2070 at Kingsnorth near Ashford. At about 7.40pm on Wednesday 31st May...
Police appeal after thieves steal fencing from childrens play area
5th June 2017 4:15PM
Kent Police is investigating the reported theft of 24 metres of wooden fencing from a children's play area in Egerton Road at Charing Heath. The fencing...
Man charged following Ashford town centre assault
30th May 2017 5:15PM
A 33-year-old man has been charged in connection with an assault in Ashford. Daniel Groom, of no fixed address, was charged on Monday 29th May with...
Bin shed fire causes damage to flats
29th May 2017 9:15AM
Kent Fire and Rescue Service was called to a blaze in a single storey bin shed in Drummond Grove, Willesborough, just before 4pm on Sunday. Two fire...
Witness appeal following robbery as Ashford shopping centre
23rd May 2017 10:30AM
Kent Police is appealing for witnesses after a robbery and an attempted robbery were reported in Ashford on Sunday 21th May. The attempted robbery is...
Ashford woman jailed for £250,000 fraud
21st May 2017 10:15AM
A fraudster has been jailed for three years and four months after she defrauded a family business out of £242,016. Between October 2010 and...
Ashford memorial to RAF 5003 squadron
21st May 2017 10:15AM
Around midnight on 21st/22nd May 1944 at Great Chart Camp the RAF engineers of 5003 Squadron were returning in small groups from a dance in the town, ready...
Man assaulted after men break into Ashford home
17th May 2017 5:15PM
Kent Police is appealing for information after four men reportedly broke into a home and assaulted a man in Ashford. The men, who spoke with local accents...
Celia Blakey Unit officially opened
16th May 2017 10:30AM
The William Harvey Hospital's Celia Blakey Day Unit received a civic official opening last week. Already open and receiving patients since March 2017,...
Ashford Brownies get tips on staying safe from Kent Police
13th May 2017 11:15AM
Youngsters from the 10 Ashford St Mary's Brownies have been awarded with their crime prevention badges following a visit from Police Community Support...
Witness appeal after Ashford assault
12th May 2017 10:15AM
Kent Police is appealing for witnesses to an assault that is reported to have taken place in Ashford. The assault is said to have occurred on the A2042...
Witness appeal following assault on Charing Hill
11th May 2017 10:15AM
Kent Police is appealing for witnesses following an alleged assault which took place on the A252 Charing Hill at Charing. A female motorist driving...
Unit launched to tackle Cyber Crime in Kent
2nd May 2017 10:15AM
Kent Police has set up a team of specially trained detectives to tackle Cyber Crime. The new Cyber Crime Unit led by Detective Inspector Lee Morton...